Moving Abroad?




International Relocations
Making the move abroad comes with its own set of challenges. What to pack and leave behind, how to pack your belongings so they all arrive at your destination in one piece, and how on earth will you get it all across? It can become a logistical nightmare, but it doesn't have to be with A2B Removals. We specialise in international relocations, so wherever it is you're planning to move, we can make it happen.
Where in the world?
We love to travel especially if it's part of the job! Over the past 20 years, we've established a trusted network of relocation specialists worldwide. From our close neighbours in New Zealand and Asia to popular destinations in Europe and the United States, you'll be sure to find a reliable A2B partner working with us, no matter where in the world you're going.  
Pack a little, or pack a lot
It's hard enough to pack when you're going on holiday, let alone packing up your whole life to begin a new journey in another country. Regardless of how much you intend to take with you, whether it's just a few boxes or everything in your home, we can arrange a smooth relocation of all of your belongings.
Should you want to hold off moving any items across to your new home, we have safe and secure storage facilities for both short term and long term hire. Alternatively, we can also arrange storage options for you at your intended destination.
Shipping options
There are a number of ways we can transport your items overseas, depending on how much you want to ship and your budget. This includes air freight or sea freight in an entire shipping container or shared containers. We will chat to you about your packing needs and recommend the best shipping option for you.
We also offer international consignment tracking, so you can keep an eye on the status of your belongings every step of the way.
Protect your valuables
We take our job seriously and we'll do our utmost to ensure your precious belongings arrive safely in one piece. However, accidents outside of our control can happen. We strongly advise taking out comprehensive international insurance cover for your peace of mind, should the unpredictable occur.
Insurance is quoted based on the value of your goods, and the type of insurance you're after. A2B is a member of the Australian Furniture Removers Association and recognised as a licensed transit insurance broker, so you can trust that we're looking after you.
The international moving process – how it works
Taking the big leap overseas is a little bit more complex than if you were relocating locally, but thankfully we've got it all covered!
Quote – we'll provide you with a competitive price and breakdown for your relocation, taking into account your needs and budget.
Pack – we'll give you tips on how best to pack your belongings, or we can take away the hassle and meticulously handle the packing for you.
Move – our expert team of movers will come to securely collect your goods, ready to be shipped.
Shipping – we'll arrange your shipping and make sure it arrives at your new destination.
Border control – anything being shipped internationally requires border security clearance and declarations. The conditions around clearances vary from country to country, so it's a good idea to familiarise yourself with what you can and can't bring into the country. As part of our dedicated service, we'll manage the entire clearance process for you.
Delivery – We'll collect your belongings at the other end, transport them safely to your new home, unload and unpack it all at your new home or storage facility.
Get ready for a stress-free international move with A2B! Request a quote or contact us today to get started 1300 873 222.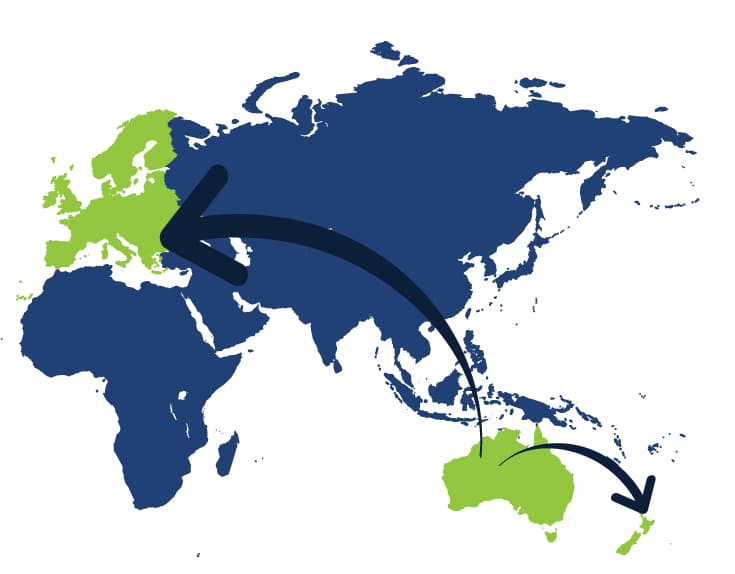 Insurance
Make Sure You're Covered
Accidents can happen – let's make sure you're protected with comprehensive international insurance coverage.
Insurance is quoted based on the value of your goods, and the type of insurance you're looking for.
Looking to keep an eye out on your belongings whereabouts? Ask about our international consignment tracking.
In addition to public liability and workers compensation insurance, A2B is a member of the Australia Furniture Movers Association and recognized as a licensed transit insurance broker. Read more about your options here.
Vaccuming carpets
Mopping floors
Cleaning ledges and skirting boards
Dusting kitchen cupboards
Cleaning windowsills and ceiling mouldings
Dusting light fittings
Washing bedroom wardrobes
Sanitise toilets and sinks
Unpack boxes
Set up furniture
Organize rooms
Set up wall hangings
Can't take it all with you abroad?  Not a problem – we've got you covered.
A2B has a storage option to fit your every need. Save money by moving and storing your belongings with us. Check out our storage options here.