A2B Removals – the Interstate Relocation Specialists
Choosing A2B Removals in Perth as Your Interstate Removalists
A2B operates throughout Australia and we offer expert interstate removalist services, to help you get to where you need to be. We understand that your home is precious to you and uprooting can be difficult and intimidating. You might even be wondering, where do I begin? That's why we're here to help you make the shift. From beginning to end of your interstate relocation, A2B will see you through the process.
Interstate Removalists Who Will Keep Your Belongings Safe
We know how important your belongings are and as the interstate relocation specialists in Perth, you can rest assured we will take every precaution and the utmost care to ensure your belongings are kept safe during and throughout their journey.
Our team of interstate relocation removalists will spend additional time strategically packing your goods into the high-quality container. Once your container is well packed and ready to make the move – it will be transported by the best-suited option for your needs; ranging from rigid trucks to rail.
Why We're the Best Interstate Removalists in Perth
The A2B removalist team in Perth, are recognised by the Australian Furniture Removers Association to meet and exceed industry standards. Our removalists are professionally trained to ensure your belongings are transported in the best possible way. Your items are thoroughly wrapped in blankets, padding and coverings to safeguard them during your move.
A2B also offers a full range of specific packing materials to meet your exact needs when moving interstate. These include but are not limited to:
Heavy-duty shipping cartons (for fragile items)
Lampshade cartons
Wine cartons
Picture cartons
Porta robes (for hanging clothes)
Shipping cartons
Custom antique crates
Custom piano crates
Custom billiards table crates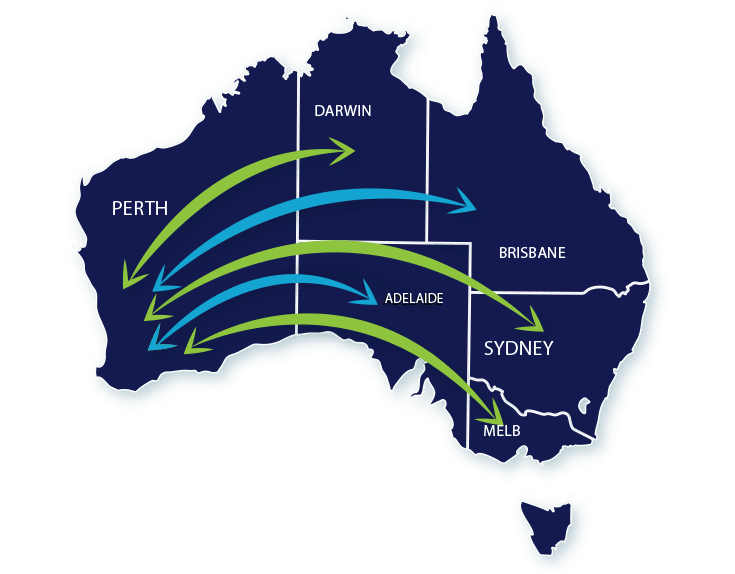 Insurance for Your Belongings During Your Interstate Relocation
Accidents can happen – let's make sure you're protected.
Insurance is quoted based on the value of your goods which our removalist specialists will be moving interstate, and the type of insurance you're looking for. In addition to public liability and workers compensation insurance, A2B is a member of the Australia Furniture Movers Association and recognised as a licensed transit insurance broker. Read more about your options here.
Valet Services, We'll Do It for You
We know what it's like to move into a new place, especially if you're moving from Perth to an interstate location. The cleaning, unpacking and settling – it can be overwhelming. We want to make things easier for you from the first moment you arrive at your new interstate home. A2B offers a comprehensive house cleaning service in addition to our removalist's services, from washing sinks to cleaning out the cupboards -all before you and your things arrive. Hate unpacking? Sit back and relax as your boxes are unpacked, furniture is placed to your liking and your rooms are set up to give you that home feeling. Here's a glimpse of we can do:
Vacuuming carpets
Mopping floors
Cleaning ledges and skirting boards
Dusting kitchen cupboards
Cleaning windowsills and ceiling mouldings
Dusting light fittings
Washing bedroom wardrobes
Sanitise toilets and sinks
Unpack boxes
Set up furniture
Organize rooms
Set up wall hangings
Contact the Interstate Relocation Specialists Today!
With the help of our interstate removalists in Perth and throughout Australia, arriving at your new home can be as simple as possible. We take the stress out of moving interstate and we can even offer storage options for your belongings until your ready to take them to your new home!
So, what are you waiting for? If you need removalists for your interstate move contact our Perth team on (08) 9244 7784 today, or simply fill in our Detailed Quote form here and we will get back to you as soon as possible.