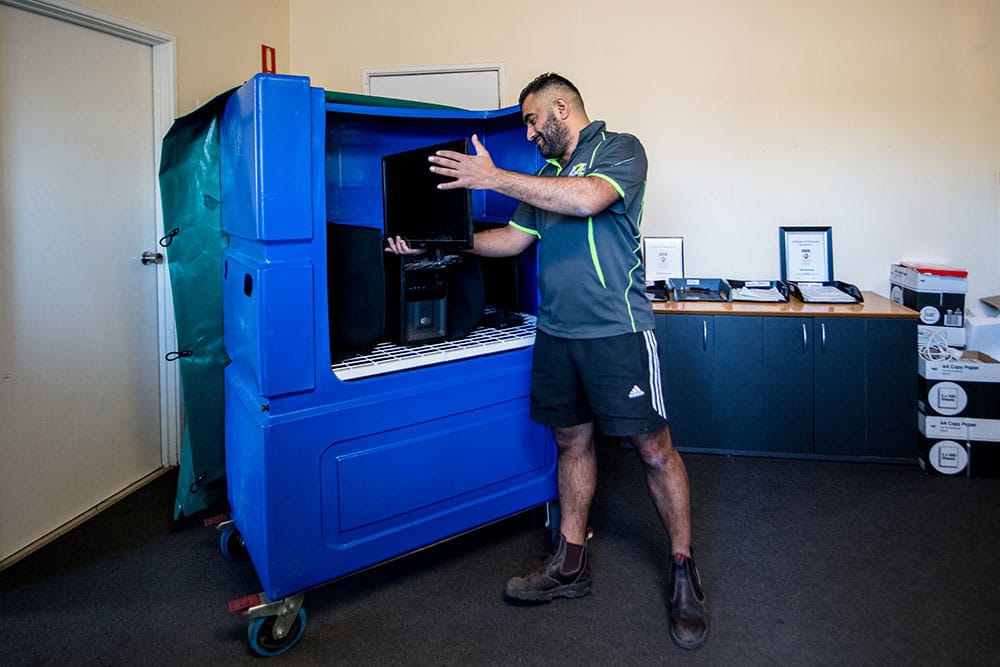 Efficient Office Removals In Perth
Moving is frustrating enough when an interruption to your business cycle is not part of the equation. But when it becomes necessary to take your staff off of their current projects and assign them to moving duty instead, it goes without saying that your business operations are going to suffer. Fortunately, with A2B Removals, relocating to a new office really couldn't be any easier.
MINIMISE BUSINESS INTERRUPTION ON YOUR NEXT OFFICE MOVE
With our 'Tools Down Friday, Tools Up Monday' service, your employees can leave work on Friday, and report for duty at the new place on Monday with everything they need in place. From your end, all you have to do is close down your old office and then open up your new one.
When your staff arrive at the new office for work on Monday, their computer will already be set up and connected to the appropriate office printers. All of their files and personal effects will be right there at their desk waiting to be unpacked. The process really couldn't be any more convenient!
Our expert movers take care of the rest – moving the contents, equipment and supplies from your old office to your new location in the course of a single weekend. You and your team won't experience any downtime. Not surprisingly, this is our most popular package for office removals in Perth, and it underscores the efficiency with which we carry out removals across Western Australia.
WHY CHOOSE A2B REMOVALS FOR YOUR NEXT OFFICE MOVE?
At A2B Removals, we offer a range of specialised services tailored to a variety of office removal situations. Whether you are moving a large office, small office, home office or even a factory, we have the removalist options to best suit your needs!
Here are a few of the added advantages that the A2B Removals team brings to the table:
Competitive Rates: Our weekend rates, in particular, are simply unbeatable, which only adds to the value of our service.
Comprehensive Insurance: Including transit and content liability insurance – which is something few of our competitors are willing to offer.
Efficient Time Management: We'll assign a project engineer to your move so that you don't have to waste a moment planning or organising. Let us handle the logistics of your move so your employees can stay on task the entire time.
Skilled Handling: We've spent years in the removals business, and we understand that your crates and skates require the utmost care; we also liaise with your IT department to ensure that your equipment is set up correctly and ready to use when you arrive.
Total Coverage: Our services cover a broad geographical swathe of Western Australia, from Perth to Geraldton or Margaret River.
A2B Removals are experienced, polished and professional movers – and we employ expert, conscientious movers who are always on time. Our green crates make packing easier than ever, and they dramatically minimise the time it takes to move. If you're currently faced with office removals in Perth or abroad, why allow the details to cause undue stress when you could just trust the experts. Contact us today for a quick, no-obligation quote and find out how we can simplify your upcoming office relocation.
If you're after home removals, well you've come to the right place. Check out our home removals service and contact us for any further details.