Why Store with Us?
Storage You Can Trust
A2B Storage Perth has provided both commercial and individual customers with storage services in Perth and the surrounding areas for over 50 years. Our industry experience and the word-of-mouth recommendations we regularly receive is your assurance of the quality of our cost-effective self storage solutions. With the best and broadest range of storage solutions in Perth, A2B Storage are your go-to self-storage experts. Get in touch today to discuss your storage requirements.
High Security Indoor Storage Facilities
We provide commercial and residential customers with highly secure storage units in Perth that they can confidently store their possessions in. A2B Storage has an indoor warehouse facility with high-security features. Our facilities are designed to protect our customers' belongings from dust, weather and variations in temperature.
When you store your possessions with A2B Storage, you can rest assured that your items are totally safe and secure, and that they'll be in exactly the same condition when you come to collect them. We pride ourselves on providing the safest and most secure storage facilities in Perth and the surrounding areas, so whether you're after a short-term or long-term storage solution, we have the solution you're looking for.
We Can Fit Your Needs
As we cater for commercial and individual customers alike, no items are too big or too small to be stored in our safe and secure indoor storage facilities conveniently located in Osborne Park and Wangara. We aim to exceed our commercial and residential customers' high expectations by providing friendly and informed advice about the storage solutions we offer and our team of self-storage experts welcome the opportunity to discuss your storage needs with you. For the best container storage solutions in Perth, call A2B today – we've got your self-storage needs covered.
Furniture of any size
Home appliances
Office fixtures and furnishings
Domestic goods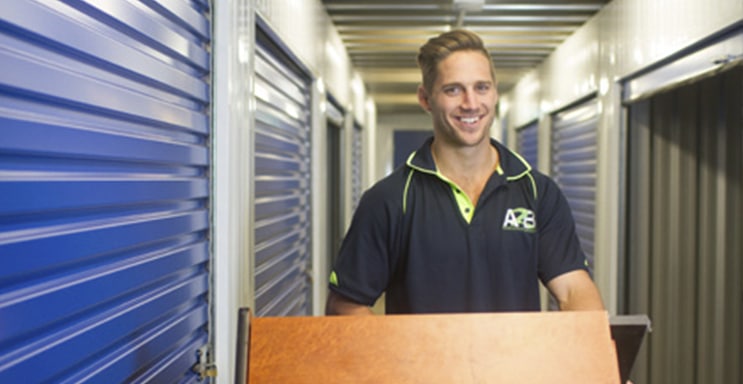 Need Help Moving In?
We Can Help You.
A2B Storage Perth and A2B Removals operate from the same facility, so if you're looking for someone to help you move your belongings in and out of storage – look no further. Our team of professionally trained removalists can help you move your things, strategically pack them into storage and give you peace of mind; all at a time that suits you. Give us a call today to discuss your requirements.